When we recieve comments from customers about our trophies like: ''They are beautiful" and ''Makes an impression". This is what drives us to continue to create and develop.
We would like to sincerely thank our customers for such kind words and feedback. If you are new to our company we invite you to read our comments page, which we feel perfectly describes our offers and process.
---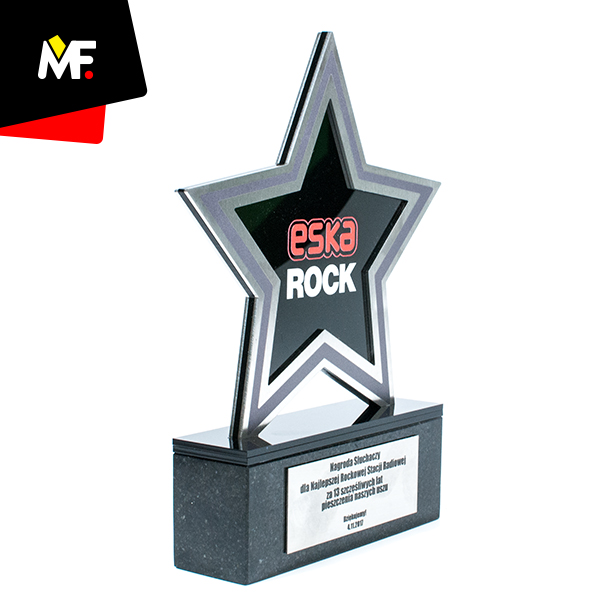 Magdalena Grabowska
Stacja Radiowa Eska Rock
---
"Thank you for an amazing jubilee trophy for favourite radio :) Very effective and professionally made. Right cooperation. I recommend!"
Małgorzata Władyko
GWKS Ajsedora
---
"Cooperation with Modern Forms - simple, unchangeable, the greatest quality, creative solutions! Beautiful medals and fantastic cups. We would like to thank you on behalf of Warsaw Gymnastic Sport Club AJSEDORA"
Mariusz Ryżkowski
Nielsen Media Research
---
"I have ordered products for 3 years now, and it can be said that in a way I co-design medals and trophies for the participants of sport competition in our company. I must admit that the cooperation is positive. Openness for ideas, patience, kind cooperation, reliability and affordable prices makes it worth to choose Modern Forms. After three years I can say that medals and trophies made by Modern Forms are developing every year. They are more and more prettier and the company is widening their possibilities and is capable of producing new ideas. I recommend."
Michał Tittinger
Podkarpacka Federacja Sportu
---
"Great cooperation. Quality and designs of trophies are also amazing. Trophies prepared for Natonial Olympic Junior Games in Winter Sports" Podkarpackie 2018" are enjoyed by every participants. Another projects already being implemented :-) Strongly recommend!"
Karol Chwiesiuk
Gimnastyczny Warszawski Klub Sportowy AJSEDORA
---
"On behalf of Warsaw Gymnastic Sport Club AJSEDORA board I would like to thank very much for the support in organization of 4th International Artistic Gymnastics Tournament WARSZAWSKA JESIEŃ 2016 held on 19-20 of November 2016. 180 competitors took part in the tournament from 21 clubs from 7 countries – Belgium, Belarus, Lithuania, Latvia, Moldova, Poland and Russia. Your medals and trophies were impressive. In the attachment you may find photographs form an event".
Przemysław Majchrowski
COBOR Stacja Doświadczalna
---
"Thank you. I received the trophy and it pleases the eyey".
Karol Chwesiuk
GWKS AJSEDORA
---
"On behalf of Warsaw Gymnastic Sport Club AJSEDORA board I would like to thank once again for the support in organization of 5th International Artistic Gymnastics Tournament WARSAW BABY CUP 2017. Medals and trophies were so impressive".
Kamila Kossowska
Urząd Gminy Dzierżoniów
---
"Thank you! The trophy is great and the order fulfilment really fast".
Katarzyna Małanczyj-Blacharska
POLIAMID PLASTICS S.C.
---
"Trophy that you have produced for Legrand company is so good that we would like to order it once again for our other client. Please, prepare a design for us."
Artur Matyszkiewicz
---
"We have just received the trophies... they are beautiful, as always ;-) If I decide to organise an event next year, I will order it as well.".
Magdalena Mikołajczak
Polski Związek Firm Deweloperskich
---
"I am really satisfied with the cooperation and I would like to order three more trophies."
Karinna Calin
AIESEC International
---
"Thank you so much. We have already received the trophies and I wanted to thank you for how fast the whole process has been."
Hartmut Hiltmann
IM-PRESS PROMOTIONS BERLIN
---
"Yesterday we got a reaction from our customer. He said the trophy is very well done, excellent printing, great colors… He is very pleased with the product."