We faced a real challenge in July 2018 – to create innovative statuettes for Toyota Media Cup organised on a popular racing track in Slovakia – Slovakia Ring, where extremely prestigious sports events take place.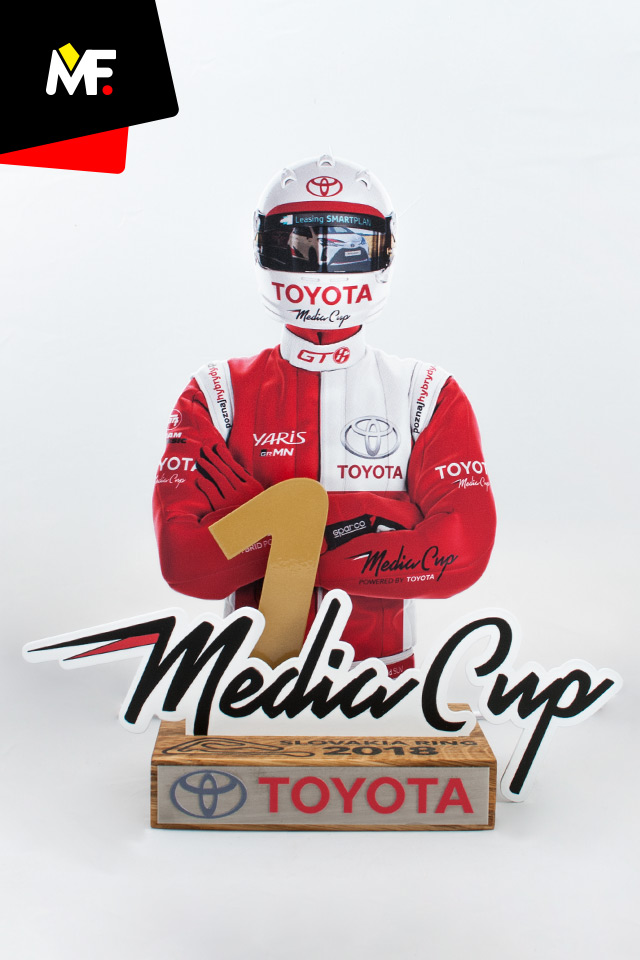 International finale of the Toyota Media Cup cycle
On 26th July the Final Race Challenge and the crowning event of Toyota Media Cup took place – namely a competition for automobile journalists from the so called Vysehrad Group – Poland, Hungary, Slovakia and Czech Republic. The participants initially competed on national levels comprising the elimination stage. Only five teams proudly representing their country during the final could qualify from every country. Polish journalists were exceptionally represented by 6 teams because of a tie – Antyweb.pl, AutoŚwiat, Interia.pl, Fleet, TVN Turbo and WP.pl.
The modern statuette was awarded to Łukasz Byśkiniewicz of TVN Turbo, who dominated both the national and the international competition.
Łukasz Byśkiniewicz is proud to present his excellent result and unique statuettes on Facebook.
TVN TURBO najszybszą redakcją. W końcu to turbo?Łukasz ByśkiniewiczTVN Turbo,

Opublikowany przez Łukasz Byśkiniewicz TVN Turbo Rally Team Czwartek, 26 lipca 2018
Innovative statuettes with unique forms
Modern Forms has always broken the trends, always looking for newer inspirations and is not afraid to make non-standard products. They include the modern statuette given during Toyota Media Cup. A 28 cm-tall, three-panel statuette presents a participant of the event in an original body suit adapted to racing. A UV print guaranteeing customer satisfaction has been applied on steel panels, powder-coated with an extremely durable paint.
What does the Internet say about the statuettes?
"A unique event, unique cups" – wrote the organiser, Complex Motorsport, on its Facebook page
Wyjątkowa impreza, wyjątkowe puchary. Toyota Media Cup 2018.

Opublikowany przez Complex Motorsport Czwartek, 26 lipca 2018
Check out reviews of our satisfied customers, CLICK!
Jakub Rejlek of Czeski Garaz.cz also presented our statuette on Instagram:
Toyota media Cup – was great day, first place from czech journalist and second place from all journalist Poland, Czech, Hungary and Slovakia
The Anyweb team also made photos with the statuettes available:
Did we interest you in our production? Call us at +48 502 658 919
If we inspired you and if you liked our innovative statuettes, do not hesitate to contact us and we will make every possible effort to make sure that our cooperation brings the best possible effects. We approach and treat every customer individually, with ultimate engagement and precision.
We can be contacted at: +48 502 658 919, or by e-mail: contact@awards-trophies.eu
Technical data of the statuette
Height: 28 cm
Width: 26 cm
Shape: Irregular
Materials: steel, wood